October 4, 2014
at the Pasadena City Hall
Ticket prices start at $FREE
Join the Pasadena Symphony and POPS for a free concert under the stars! This annual concert for the community features the Pasadena Symphony and POPS, and the JPL Chorus on the steps of Pasadena's City Hall, and celebrates music from Broadway, the movies, and the Great American Songbook. 
See our concert program listed below!
This concert is FREE, no tickets or reservations are required. Arrive early for gourmet food trucks, a musical instrument petting zoo, and pre-concert family fun!
Gates Open at 5:30 p.m. for family fun and gourmet food trucks
Concert begins at 7:30 p.m. (90 minutes)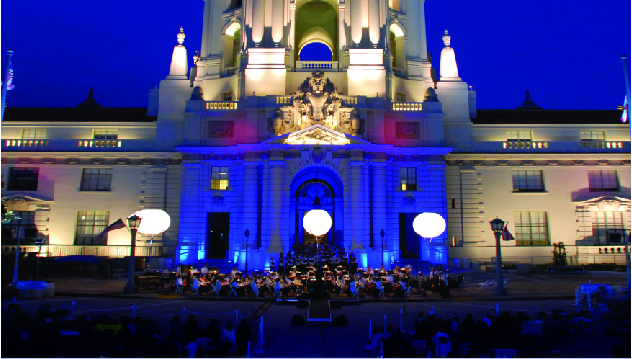 Guest Artists:
Food Vendors Available for the Evening:
Slammin' Sliders
Pie 'n Burger
Grilled Cheese Truck
Don Chow Tacos
Choctál
Seating: Centennial Square will feature open first-come, first-served seating. It is highly recommended that guests bring low-backed chairs for seating. Chairs will also be available to rent for $3.
Recommended Parking: Plaza Las Fuentes Structure (Union Ave & Los Robles); School House Parking Facility (Green St. & Raymond Ave); Pasadena Center/Sheraton Parking Structure (Marengo & Cordova); Paseo Colorado Subterranean Garage; Paseo Colorado Marengo Avenue Parking Structure; Paseo Colorado Los Robles Parking Structure; Arroyo Seco Park Parking (Raymond Ave or Arroyo Blvd), and Marriott Courtyard Hotel Parking (enter on Raymond).
Concert Program
Star Spangled Banner w/Brinegar cond
Somethings Coming – Burnham (Bernstein/Sondheim)
With one Look (Lloyd Webber/Black
Lush Life/I Get Along (Strayhorn/Carmichael)
As Long As He Needs Me (Lionel Bart)
What Is this Thing Called Love (Cole Porter)
Bewitched Bothered Bewildered (Rodgers/Hart)
You're The Top (Porter)
LET THERE BE PEACE ON EARTH – chorus
Who Can I turn To (Anthony Newley/Leslie Bricusse)
Everythings Coming Up Roses (Styne/Sondheim)
Everytime I Say Goodbye (Porter)
Out There (Alan Menken/Stephen Schwartz)
Ridin High (will add chorus) (Porter)
Neverland (Styne/Comden/Green)
I know Him So Well (Tim Rice, Benny Andersson and Björn Ulvaeus)
It's De Lovely w/ chorus on the third part (Porter)
Anything Goes w/chorus (Porter)
This concert is presented with support from: