NEXT YEAR'S CONCERTS AT THIS YEAR'S PRICES!
Season subscribers have the limited opportunity to get next year's seats at 2014 prices.  You must subscribe or renew by September 29 to guarantee this summer's prices.  All season subscribers receive the best price (up to 20% off the single ticket price) for subscribing to all five concerts.  Subscribers also receive the same subscription discount on any additional tickets.
BEST SEATS OF THE SUMMER!
Subscribers get to pick the best seats before single tickets go on sale and renewing subscribers get to keep the same great seats or be first in line to request different seats.
BEST PARKING!
Get onsite parking at the Arboretum by purchasing now. Season parking passes can be pre-ordered for $50 (includes all 5 concerts).  Please specify general or accessible parking.
Parking is very limited, so order now to guarantee your parking!
Free general and accessible parking with shuttle service to the main entrance is also available at Westfield Santa Anita Shopping Center adjacent to the Arboretum.
FREE TICKET EXCHANGE
Out of town for a concert?  Simply let us know and we will exchange your tickets for another POPS concert for free (based on availability).
NO RISK TICKET POLICY
If you ever lose or misplace your tickets, we'll replace them free.  We can either mail them or have them waiting for you at the concert.
For more information regarding our 2015 Subscriber Package, please click here.
Big Band Swing
June 20, 2015
Michael Feinstein, Conductor
*Classical Mystery Tour
July 11, 2015
Music of the Beatles
with a special tribute to
Sgt. Pepper's Lonely Hearts Club Band
Classical Mystery Tour, Guest Artists
Martin Herman, Conductor
*The Sinatra Project
August 1, 2015
Michael Feinstein, Soloist
Larry Blank, Conductor
To Ella & Nat with Love
August 22, 2015
Michael Feinstein, Conductor
A Night at the Oscars!
September 12, 2015
Michael Feinstein, Conductor
*Please note that the dates for these two concerts have swapped as of 9/8/2014. 
Single Tickets
Single tickets to our 2015 POPS concerts will commence in February of 2015.

2014 Sierra Acura Summer Concert Series
Feinstein's Favorites | June 7, 2014


Broadway's Leading Ladies | June 28, 2014


Michael Feinstein SINGS Gershwin | July 19, 2014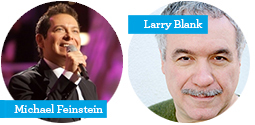 Hooray For Hollywood | August 16, 2014


New York, New York! | September 6, 2014


All concerts will be held at the LA County Arboretum. Gates open at 5:30pm for picnicking, and concerts begin at 7:30pm.